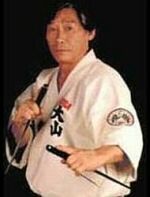 ---
News
Films
Photos
Links
Karate Kyokushinkai
---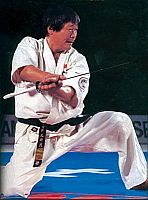 The great master Soshu Shigeru OYAMA was born on 7.07.1935 in Japan to a Korean family. He started training martial arts at the age of 10. He was an able student of the legendry Masutatsu Oyama. As one of the few living legends of karate having won 100 consecutive fights with black belt holders in the so called 100 test fights. He has demonstratively held a swung samurai sword and broken heaps of blocks of ice and baseball bats.

Soshu Shigeru Oyama has trained not only well known karate experts but also national, continental and even world champions. He trained well known leaders of world knock down organizations like:


- Steve Arneil (IFK Kyokushin Karate);

- Loek Hollander (IKO Kyokushinkai-Honorowy Prezydent EKO);

- Joko Ninomiya (Enshin Kaikan);

- Katsuaki Sato (Sato Juku);

- Takashi Azuma (Daido Juku);

- Shokei Matsui (IKO Kyokushinkai);



Shigeru OYAMA is the author of many books, publications and films on methods of learning karate.
---