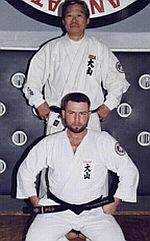 ---
News
Films
Photos
Links
Karate Kyokushinkai
---



Sensei Karol KLOSKOWSKI practices martial arts from 1980. He started with judo and ju-jutsu followed by Kyokushinkai karate in Kyokushinkai karate club in Słupsk under the supervision of Sensei Mirosław Zielinski where he attained very good tactical and technical skills. From 1992 he trained in Koszalin at the Military school for officers under the supervision of Sensei Andrzej Kłujszo becoming the polish champion and vice champion in international championship. He was a member of the Polish national Kyokushinkai karate team.

From 1992 Karol trained in Krakow at the Kyokuhinkai karate club under the supervision of Shihan Andrzej Drewniak. In 1993 he changed to Oyama karate club in Krakow under Shihan Jan Dyduch. Between 1992–1994 he was the head of a platoon of the special air-storming Brigade at the Krakow military region.

In 1995 he move to Gdansk where together with his brother Artur and other karate enthusiasts he opened Oyama Karate club in Gdansk. A year later he passed the 1st DAN exam under the supervision of one of the living legends, a pupil of the great Masutatsu Oyama, Shigeru Oyama 10 DAN. He is one of the two people who received the samurai sword the following year for being an outstanding participant in the Polish championship in knock down karate. In the same year he began boxing training under the supervision of Zdzisław Soczewinski who trained the likes of Machalczewski and Guzowski.

In 1997 he took part in the world championship in kick-boxing full contact in Britain where the Polish team became the vice champions. In 1998 after trained under Jozef Warchoł, a former world champion, he took on the then reigning world champion, Robert Nowak, in a three round fight but narrowly lost on points.

In 1999 be passed the 2nd DAN exam, again under the supervision of Shigeru Oyama. He was a three time vice champion of Poland in knock down karate competitions organized by Oyama Karate and IFK Kyokushinkai between 1999 and 2000. In 2000 he became the Polish champion in full contact karate in the category of up to 80 kg winning all his fights before time. The championship fight against the then vice champion, Mariusz Pawlus lasted only six seconds.

In 2003 he set up Gdansk karate club with his brother Artur who in order to increase chances to participate in various tournaments, regional, national and European. Gdansk Full-Contact Karate Club is a member of Oyama karate organization. Sensei Karol Kloskowski 2nd DAN is the chief sports instructor in Oyama karate at the Gdansk Full-contact karate club.

In 2001 Karol was thanked by the great master, Shigeru Oyama for his efforts in promoting karate.
---